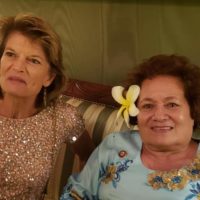 COVID-19 help for the territories was the issue before the Senate Energy and Natural Resources Committee today, as Congresswoman Aumua Amata Radewagen thanked lawmakers for what they've done so far, and sought future support…That report from KHJ News Washington DC correspondent, Matt Kaye.
Congresswoman Aumua Amata told theSenate panel with jurisdiction over the islands, American Samoa has received well over $100-million in stimulus checks, PPP and EIDL loans, unemployment help and direct aid to ASG operations.
Amata credited swift bipartisan action by Congress…
Play Audio
But that hasn't erased the needs–
Play Audio
…including being 7000 miles away! Amata stressed the need for American Samoa's being included in new measures, possible in July, as the pandemic continues…
Play Audio
The Army Corps said millions are needed for LBJ's modernization, including a boost in annual ASG funding to further plan and design improvements.
The Congresswoman called for more unemployment aid, since payments of $600 week expire July 31st, while local applications for Pandemic Unemployment Assistance are just now being processed.
Aumua Amata called on the Senate Committee to back a 5-year minimum extension of the 30A/American Samoa Economic Development Credit for the territory's sole remaining cannery, and to attract new investment in the local economy to help it diversify.
The Congresswoman also called for including American Samoa in the EB-5 investment program—the only US jurisdiction not included—and for more highway funding, and seawall and ports grants in any infrastructure stimulus.