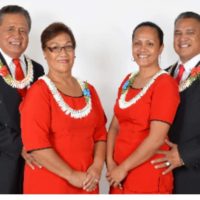 The gubernatorial team of Nuanuaolefeagaiga Saoluaga Nua and Tapumanaia Galu Satele, Jr. view tourism as an avenue to bring in new money into the territory to benefit the economy through new and additional employment opportunities, and new business development to increase tax revenues.
The candidates say tourism development needs to be "sustainable", as well as environmentally and culturally sensitive.
Their strategy for developing the tourism sector is to have Hawaiian Airlines assist with holiday packages offering return affordable airfares and accommodation from the U.S west coast through partnership with the American Samoa Visitors Bureau and industry members.
"The airline needs support from the ASVB and tourism partners and we want to continue to grow the sector to become a self-sustaining and a major financial contributor to our economy," says the team.
The role of ASVB in their view is to drive the promotion and awareness of American Samoa as a travel destination and through airline and cruise ship assistance in bringing additional visitors to the territory.
Local tourism products which the team says can be undertaken now are:
Day Trip Tours to Aunu'u Island, sliding rocks and Leone Falls, Blunt's Point and the Turtle and Shark site.
Recreation Tour: Water Sports at Utulei, snorkeling at Fagatele Bay and on Ofu Island, Manu'a, hiking, sport Fishing Charters and Scuba diving trips, etc.
Cultural & Entertainment:Kava ceremony, Tisa's Barefoot Bar: Umu, fiafia celebrations, fautasi boat races/displays, concerts and shows, shopping, handicrafts.