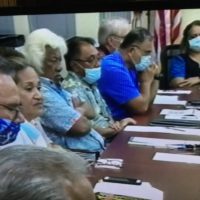 The governor revealed plans yesterday for a Hawaiian Airlines charter to pick up people in the territory who want to travel to Hawaii and the mainland.
The group includes students heading to college, military recruits, patients and persons who reside off island but have been stuck here since flights were suspended in March.
Acting Director of Homeland Security Alfonso Pete Galea'i said there are about 120 people wanting to exit the territory who have made requests through the Emergency Operations Center.
The governor responded that Hawaiian Airlines is currently looking into the possibility of a charter flight.
But he said an important issue to consider is whether our people want to be exposed to the coronavirus disease off island.
Lolo said the Coronavirus Task Force and working group are to look for ways to enable college bound students, as well as military recruits to realize their plans and be able to take up those opportunities.
He stressed its important to make parents aware of what their children will face off island because of coronavirus, but at the same time "we cannot stop them" from pursuing educational and career opportunities.
Governor Lolo told the Director of Education to explain to parents of scholarship students bound for off island colleges and universities regarding the coronavirus situation off island and whether they want their children exposed to it.
According to DOE Director Dr. Ruth Matagi Tofiga, they've spoken with parents and advised them of the resurgence in COVID-19 cases.
She said most colleges in California will do classes on line when schools resume in the fall.
She said parents have been told that if his is the case, maybe its best that their children take their online courses from here at home.