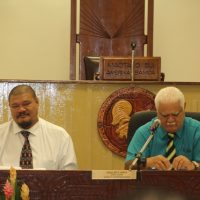 The next batch of tax refund checks will be issued tomorrow, Tuesday, June 30.
Treasurer Ueligitone Tonumaipe'a announced today that Batch 12 includes refund checks for those who filed their 2019 tax returns from April 6 to June 2nd.
Those with mailing addresses will receive their checks in the mail.
Those without mailing addresses can pick up their checks at the Disbursing Office in Utulei.
Additional Child Tax Credit refunds total $1, 072, 195 and local refunds total $939,737.
Batch #12 brings the total value of refunds issued to date to $14,045,235. ACTC's account for $8.7 million and the balance of $5.2 million are local refunds.
The public is reminded that since we're still under COVID-19 state of emergency declaration social distancing should be maintained and face masks are encouraged.
Those expecting tax refund checks but have not received them are asked to visit the Tax Office .
Please have the following documents with you:
Copy of your tax return,
a valid form of identification,
your Social Security card, and that of your spouse if filing jointly.