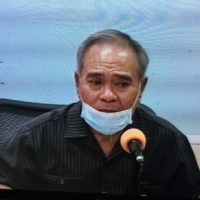 The four villages which are helping enforce COVID-19 emergency declaration rules and monitoring drug activity are receiving checks of $10,000.
The villages are Leone, Nu'uuli, Pago Pago and Faleniu /Mesepa.
KHJ News received confirmation from Leone and Pago Pago matai that Commissioner of Public Safety Le'i Sonny Thompson and Chief of Staff Fiu Johnny Saelua delivered their $10,000 checks yesterday evening.  The checks for the other two villages were to be handed over today.
At the Sunday meeting of the Coronavirus Task Force Governor Lolo said checks for the four villages were with Fiu and he suggested that the Commissioner of Public Safety and Fiu deliver the checks yesterday evening.
Lolo jokingly said  if you arrive and the aumaga are not there then bring the checks back,
He said that other villages have asked to be part of the village enforcement .
According to the governor, the first step is for villages to build their fale leoleo or aumaga fales which would show their commitment to the program.  He said there was a request to repair a guest house but that's not allowable.
When he first announced the aumaga enforcement in villages,  the governor said that before the territory had a police force, villages were responsible for their own safety and law and order.
He said the village aumaga would help monitor compliance with COVID- 19 rules such as the closure of businesses at 9 pm.
Lolo said the Office of Criminal Justice Planning should be tapped for funding to buy uniforms.  and tools for the aumaga to use in their enforcement.