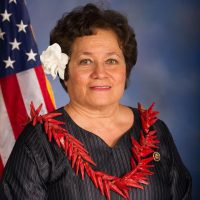 Airline, hotel and restaurant workers, bus and taxi drivers and self employed workers who lost wages or even their jobs because of closures resulting from the Covid-19 pandemic, are anxious to find out if changes have been made to the eligibility rules so they can qualify for assistance from the Pandemic Unemployment Program. 
Many of these workers are foreigners some of whom are American Samoa permanent residents having lived here more than 20 years.
Under the PUA program rules which are based on Hawaii's unemployment program law, only US citizens, nationals and US permanent residens or green card holders can qualify. 
KHJ News followed up with Congresswoman Aumua Amata regarding her efforts to expand eligibility to include such workers. 
She said, "I support both extending and expanding the PUA payment to all valid workers in American Samoa who, like CNMI, have the same issue as us with similar worker populations that are not covered—and we have been advocating for their inclusion.
"The timing and other criteria for continued benefits are all in a state of flux now with various proposals out there but it should all come to a head in coming weeks."
The congresswoman pointed out that the unemployment payment of $600 expires ‪July 31‬ but  the local benefit of $182 will still remain through the end of the year.  
"I'm confident some form of PUA will be extended but it will likely be modified. Proposals are circulating and will be revealed in detail after the ‪July 4th‬ break in the U.S. Senate which is resisting a continuation of the House passed extension of the full payment through the end of the year," said the congresswoman. 
Adding, "Many senators fear the extended payment is slowing the economic recovery and are trying to make sure that people don't get more money to stay home than they would, to work."
She also reported that some senators led by Sen. Portman of Ohio and House Ways and Means Ranking Member Kevin Brady are promoting a plan that would provide $450 weekly benefits for laid off workers who return to their jobs as a "back to work" bonus so a compromise is in the making.