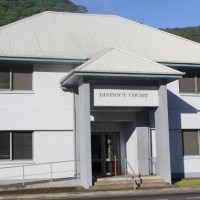 One of the new cases before the District Court this week is that of a man who was found driving under the influence.
After police arrested Uatime Leilua, they discovered that his driver's license had been permanently suspended.
According to the Samoa News, on June 20, a police officer saw Leilua's truck driving westward near Cost U Less and stopped it because minor children were standing at the back of the truck.
The office said he could smell alcohol on the defendant's breath when he approached him.
Leilua claimed that he saw a mother and her children walking and offered them a ride.
He said he was just being helpful and apologized for the traffic infraction.
He said he had drunk two cans of beer at a party with friends which finished an hour before the traffic stop.
He agreed to a breathalyzer test and blew a blood alcohol concentration of .125 which was well over the acceptable level.
Police then drove Leilua's truck to the Tafuna police station. A check of his license was run and it was discovered that his driving privileges had been revoked.
He was therefore charged with felony driving in addition to driving under the influence.
His bail was set at $6,000.