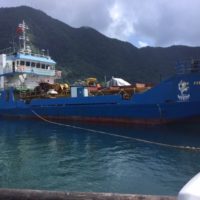 Local agents for the Samoa chipping Corporation have been advised that the Fotu o Samoa, not the Lady Naomi will be sailing to Pago Pago next week, in what is planned to be a weekly sailing for cargo only.
A spokesman for Polynesia Shipping says the Fotu o Samoa sailing is scheduled for next Thursday, July 2.
And the company has received a lot of inquiries from businesses and individuals intending to bring cargo from Samoa or sending cargo to the independent state.
Since this would be the first sailing of a Samoa Shipping Corporation vessel to the territory since the COVID-19 pandemic, Polynesia Shipping is making sure all of the quarantine and port requirements for the vessel and crew are met.
The spokesman said they need to firm up with local authorities how the unloading and loading operations will be handled.
With the inter island vessels, crew would carry or use fork lifts to unload the cargo which would mean that they would come off the vessel. And when cargo for the outbound sailing is loaded, there's usually a crowd to take their cargo on the vessel.
For containers ships crews stay on board during the unloading and loading operations.
The spokesman said their company is sorting out all these details with the relevant authorities and hopefully get the rules in writing well before Thursday.
The Fotu o Samoa will be bringing taro and other agricultural goods like Samoan Koko, canned coconut cream and turmeric juice, along with Samoa's main export Vailima Beer.
Governor Lolo Moliga told KHJ News earlier this week he and Samoa Prime Minister Tuilaepa Sailele agreed to resume the ferry service just for cargo, no passengers.
He said we need taro and other produce that is plentiful in Samoa, while many local families want to share foodstuff purchased with their Gita food stamps with their aiga in Samoa.