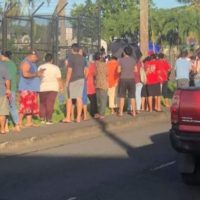 The long lines seen at the banks during the first release of stimulus checks last month had many asking why Treasury doesn't use direct deposits for those with bank accounts.
Manu'a Representative Vesi Fautanu Jr posed the same question during a hearing of the House Economic Development Committee with the Commissioner of the Office of Financial Institutions Robert Ho Chee, bank managers and the Director of the Small Business Development Center.
The focus of the hearing was the status of Small Business Administration assistance programs for businesses impacted by COVID-19.
Rep Vesi said direct deposits would avoid the experience from the first release of stimulus checks.
Play Audiovesi-banks
OFI Commissioner Ho Chee gave this response.
Play AudioHo-chee-direct-deposits