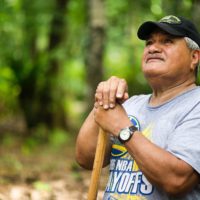 Adviocate for veterans and their families, Judy Taufetee, has written to local government leaders, Congresswoman Aumua Amata and Hawaii Congresswoman Tulsi Gabbard pleading for help to bring a veteran home from Hawaii for burial.
Taufetee writes that three months ago "a veteran from my village" was in Hawaii for his monthly check up at Queens Hospital but unfortunately he passed away.
She said due to COVID-19 restrictions the Vietnam War veteran cannot be brought home.
"The veteran's family want to bring him home so they can organize a special tribute service to honor him," said Taufetee. "He risked everything for a country of people many of whom would never know his name. He was a courageous hero and we all appreciate the sacrifices he made and his bravery to protect our country and freedom."
Taufetee asked the leaders, "Please help bring our veteran home to be laid in his final, resting place."
The hero she was referring to is Mata'utia Vailu'u Maanaima Lang of Leone.
According to his daughter, Victoria, her father passed away on April 3rd and the last thing their family would like to do for him is fulfill his wishes to be buried here at home.
Mata'utia served two years in the US Marines before he was medically and honorably discharged due to an injury while on one of his two tours to Vietnam.
He earned two Purple Heart medals and one bronze medal and several other commendations.
He worked for the US Post Office for 21 years.