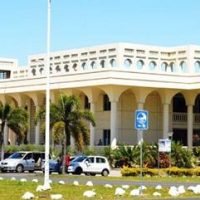 The Samoa Government's plans to build a new flea market at Sogi has stalled because of the Nanai Tokuma family who refuse to relocate, claiming the land they live on was gifted by pre-independence administrators.
Samoa Observer reports the office of the Attorney General went to court on Monday to ask to have the matter brought forward from its scheduled October 2020 hearing. The government is claiming the family is obstructing its plans to develop the area.
The Samoa Land Corporation called for tenders in May to start the reclamation process of some of the swampy lands intended for the relocation of the Savalalo flea market.
All of the families at Sogi have accepted an offer from Government to relocate to allow for the developments but the only family that remains defiant against government is the Nanai Tokuma family which has vowed to fight the government through the courts.
An eviction notice from the government that police served was ignored by the family and police threats to forcibly remove them has not eventuated.
Justice Leiataualesa Daryl Clarke has scheduled the matter for a July 6 hearing.