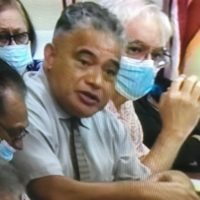 Health officials did not expect and were not prepared to have so many travelers with health conditions needing medical care travel from Samoa on the repatriation flights.
Yesterday scheduled flights for both Samoa Airways and Talofa Airways were cancelled on the advise of the Department of Health to allow medical staff to recuperate.
Health Director Motusa Tuileama Nua said doctors and nurses are having to attend to the elderly and sick travelers being quarantined at Sadies by the Sea, some of whom have serious health conditions.
He said these individuals cannot be taken to the hospital because they are in quarantine and cannot be exposed to patients at the hospital.
So their medical team is attending to them almost 24 hours.
Motusa said there's also a medical team checking on those in quarantine at the DYWA Center.
To give their staff a break the director said he's asked that the flighs be operated on alternate days, instead of daily.
So yesterday's flights were cancelled.
While both airlines had scheduled two flights each today, they had to drop their second flights because they were advised by DOH that they could only accommodate about 20 people at the two quarantine sites.
Motusa said Fatuoaiga Center will not be available until June 30th and ideally the repatriation flights should be held off until then.