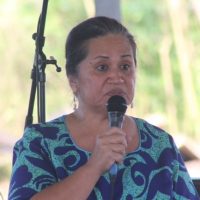 Summer classes for public school students needing additional assistance will begin June 29th.
Director of Education Dr. Ruth Matagi Tofiga announced today that DOE will be offering summer classes for elementary and high schools.
Summer classes for elementary school students wil be from June 29-July 30 and for high schools from June 29-July 17th.
There'll be sessions for seniors which will be for cfrom June 29th to July 30th.
There's also summer tutoritng for ECE students from June 29th-July 24th.
And for Special Education on the same dates June 29th-July 24th.
Contact the following numbers for information on summer classes.
Elementary 699-2021/2011; Secondary 699-1245/1246, OCI 699-6516/6518, ECE 633-5177/5178, SPED 633-1323/4789.
A summer technology institute for public school teachers will take place June 29th to July 24th.
An important date for parents to remember is July 30th. That's when registration for new students enrolled in public schools will start.
The new school year will begin August 31st.
The induction of new teachers takes place August 17-21st.
All teachers will start August 24th.