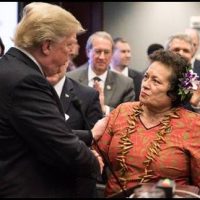 Congresswoman Aumua Amata has responded to a call from Army veteran and would be candidate in the congressional election, Supply Seau, to postpone the November 3 general elections due to COVID-19.
The Aunuu native said he has been stuck in the mainland for three months because of the suspension of Hawaiian Air flights to the territory due to coronavirus. 
He said theres no way to tell when the governor will reopen flights so he wont have enough time before the electios to meet voters and let them know what he can do if elected.    
He feels local leaders should start discussing postponing the elections possibly till next year.
Aumua who is making a 4th bid for American Samoa 's seat in Congress said the date of the general election is set by federal law and has been fixed since 1845.
"It would take a change in federal law to move that date," she said. "That would mean legislation enacted by Congress, signed by the president and subject to challenge in the courts. To call that unlikely would be an understatement."
She continued, "And even if all of that happened, there would not be much flexibility in choosing an alternate election date–as the  Constitution mandates that the new Congress must be sworn in ‪on Jan. 3‬, and that the new President's term must begin ‪on Jan. 20."‬
Aumua explained that those dates cannot be changed just by the passage of normal legislation but needs a constitutional amendment.
So a congressional election could not be postponed more than a few weeks should Congress and the President agree to do so.
"Currently there are no serious proposals with any traction to do so nor any criteria currently present that would warrant postponing elections we have had through many wartime and other difficult periods since 1845 in this Nation," said Congresswoman Aumua.