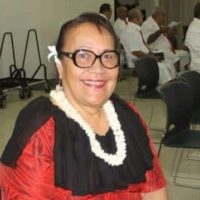 Testimony by the Director of Human Resources Mrs Eseneiaso Liu at a recent House hearing shed some light as to why ASG employees in the 60 and over age group are now working the same hours as the rest of the government workforce.
This is the age group that's been identified as the most susceptible to the deadly virus.
Initially they were allowed to work from home. Then they were told to work three days a week and take ftwo furlough days which again changed to 2 days at work and three furlough days.
Now they have been recalled to work on the same schedule as the rest of the ASG workforce…they work for 20 hours per week but still get paid the full 40 hours.
Director of Human Resources Mrs Eseneiaso Liu explained that the plan was to have these employees apply for unemployment assistance from the $16 million grant from the US Department of Labor to cover the furlough days.
However it turned out that many would not be eligible under the rules and guidelines for the program.
The director also explained that since American Samoa doesn't have an unemployment insurance program, ASG has adopted the Hawaii unemployment insurance law for the local program.
Under the Hawaii program only US nationals, US citizens and US green card holders are eligible for unemployment assistance.
And this is why these same requirements are being applied for the local Pandemic Unemployment Assistance Program.