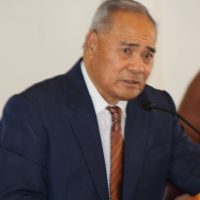 A policy for ASG employees who are currently stranded off island due to the suspension of flights as a result of the COVID-19 pandemic has been issued.
Governor Lolo Moliga had stated at the cabinet meeting earlier this week that some directors had stopped paying employees who were stuck off island because there are no flights.  He ordered that directors restore their full pay.
A written policy for such employees was spelled out in a memo issued today.
For ASG employees who were off island on government business, it is the Government's Standard Policy that the employee is deemed to be on active duty during their absence.
Thus their annual leave will not be utilized.  However if the employee elects to take annual leave after the period of official business, the leave will be applied to the elected period.
In the event medical treatment is sought, sick leave will be used.  For the duration of the COVID-19 Health Emergency Declaration, this class of employee will not be charged his/her annual or sick leave for this absence.
For employees who were on personal business, they will not have their annual or sick leave charged from March 18 to the end of the COVID-19 Pandemic Health Emergency Declaration.
These employees will have their annual or sick leave restored covering the period starting on March 18 to whatever time the coronavirus declaration is in place.
Governor Lolo said for those employees whose checks were reduced because they had no annual or sick leave, they should be reimbursed for the amounts deducted from their paychecks.
While these policies are intended for the general government the governor said he hopes that the authorities, the Legislature and the Judicial branch will adopt them as the absence of affected employees was not their choice but caused by the closure of the borders.
The Department of Human Resources will work with the directors of all agencies  to enforce  the policies and will also account for all the hours and the amount paid to those employees who are stranded off island.