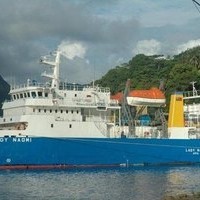 The inter island ferry Lady Naomi will soon be sailing between Apia and Pago Pago again, but its trips are just to carry cargo, no passengers.
The chairman of the Coronavirus Task Force Iulogologo Joseph Pereira has confirmed that Governor Lolo Moliga has approved a request from the Prime Minister of Samoa for the vessel to bring cargo to the territory and take cargo back to Samoa.
He said the approval letter was sent last week and it was left to the vessel's agents in Samoa and American  Samoa to work out the details on when the Lady Naomi's trips will begin.
KHJ News had asked Governor Lolo earlier this week about statements by the Samoa Prime Minister that he and the governor had discussed the resumption of  Lady Naomi trips to American Samoa for trade purposes.
The governor said it's true that he had talked with the Samoa Prime Minister and the sailings are to fill a need.
He said the territory needs taro and other agricultural produce that are plentiful in Samoa and many residents in the territory as well as businesses want to send cargo to Samoa.
Lolo told KHJ News local families want to share the blessings they've received in the way of Gita food stamps with relatives in Samoa.  He stressed that the Lady  Naomi will only be allowed to carry cargo and there will be no passengers, coming or going.
A spokesman for Polynesia Shipping, local agent for the Lady Naomi and the Samoa Shipping Corporation said they were awaiting written approval and they are looking at next Thursday for the first trip.