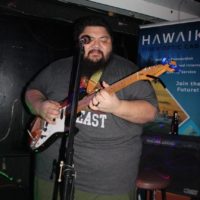 American Samoa has lost one of its most talented young musicians, music teachers and song writers, David Pouesi, leader of "Banned from the Sun."
David was admitted to the LBJ Hospital last Monday and passed away early Sunday morning. His wife of 7 years Laurenthia Lori Baker Si'uleo and his mother Sonja were by his bedside .  He was 37.
David was the lead guitarist and male vocalist for Banned from the Sun, which he started with his siblings.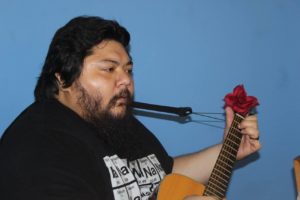 Before "Banned from the Sun, David and his friends had a band called Pool Table Confessions.
His late father Siuleo Chico Pouesi was an accomplished musician himself.
David had a wide ranging repertoire with elements of heavy metal, jazz, reggae, funk and Samoan.
While American Samoa has many talented musicians, what set David apart from second generation musicians is that he wrote original music. This was a forte he displayed in his role as a music teacher, first at Faasao Marist High school and then later at South Pacific Academy.
South Seas Broadcasting General Manager Joey Cummings, a musician himself,  has often shared the stage with David and Banned from the Sun in fundraisers, festivals and other events.
Play Audio
"He loved inspiring others with music," said his wife Lori.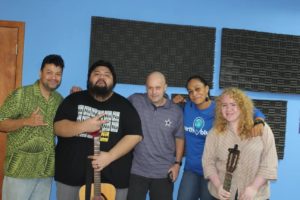 He composed the music and was the lyricist of South Pacific Academy's Dolphin Anthem which he worked on with his elective music students in 2016.
Lori said David was a very humble man, never quick to anger and always was the first to say sorry even though he wasn't in the wrong.
"He's an amazing son, cool brother, loving husband and wonderful daddy to JJ. I'll miss his goofy ways and his voice singing songs he had written. I'll miss our conversations but I'll especially miss his laugh and the way he cared for us."
David was the eldest of 7 children born from Siuleo Chico and Sonya Histake Pouesi of Aua.
Several years ago David noticed that his voice wasn't the same.  A check-up with the ENT doctor confirmed that his vocal chords were damaged and he was told if he continued to sing the damage would be worse. 2015 was the last time he sang. However, this past Valentines Day David and his SPA students showed up in Lori's class and he sang this original piece for her.
Play Audio
KHJ News, along with the many Banned from the Sun fans and students of David Pouesi, extend deepest condolences to his mother Sonja, his family and his love Lori for David's untimely passing.