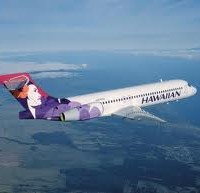 Hawaiian Air passengers who had booked and purchased tickets for flights to and from Honolulu for the month of July have been notified that their flights have been cancelled.
The airline had been accepting bookings from July 1st however yesterday it sent out notification to passengers about the cancellations.
Passengers were informed of several options which include canceling their tickets and applying the unused portions to buying new tickets or getting a refund.
Airline Vice President Ann Botticelli confirmed that Hawaiian Air had been asked to extend the suspension of  flights to American Samoa for another 30 days.  She said," we will comply. "
KHJ News asked the Chairman of the Coronavirus Task Force Iulogologo Jospeh Pereira for a copy of the governor's latest request to the airline. He said he was awaiting  a response from Mr. Ingram before he sends the letter to the media.
The last Hawaiian Air flight to American Samoa was on March 26th.
Meanwhile there were some hiccups on the first day of repatriation flights between Samoa and American Samoa yesterday.
Since there was not much information about the requirements that incoming and outbound passengers had to meet, there were some delays in the processing of OK Boards from the Attorney General's Office for those traveling from Samoa and health requirements for those traveling from the territory to Samoa.
Talofa Airways had scheduled two flights yesterday but in the end only had one because of delays in receiving OK boards from the AG's Office.
The airlines were required to forward their passenger lists to the AG's Office for review 24 hours before departure and this was apparently not met by Talofa Airways.
For outbound travelers, there were last minute runarounds for medical clearances that the Samoa Ministry of Health required but only publicized yesterday.  In the end Samoa agreed to waive the 3 day prior to travel medical clearance for travelers to Samoa yesterday.  But that requirement will be in effect from today.
Today there will be no morning flights as Tafuna High School will be using the airport for its graduation motorcade.