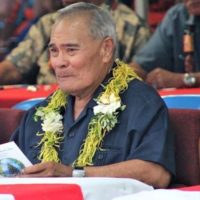 In his latest request to Hawaiian Airlines President and CEO Mr Peter Ingram to extend the suspension of the airline's flights to American Samoa, Governor Lolo Moliga said given the unstable coronavirus situation in Hawaii and the US West Coast, "We have no recourse but to extend our border closure for an additional 30 days."
This was the governor's 4th request to Hawaiian Air to suspend flights to American Samoa.
Lolo said the recent increase in the number of confirmed Coronavirus cases in Hawaii has triggered rethinking of the original intention of possibly reopening our borders in July, given that Hawaii was doing an exceptional job in containing the spread of the virus towards the end of May and beginning of June.
He said it was also disconcerting that the COVID pandemic situation in the mainland US is not stabilizing with many of the large cities and states experiencing spikes causing further uneasiness sand hardening our resolve to maintain status quo.
The govemoe added that there is "tremendous pressure from our residents stranded in Hawaii and other states to open the border to Hawaii. This discontentment, grievances, annoyances and frustrations have resulted in lawsuits before the High Court of American Samoa questioning the constitutional authority of the governor to close the borders and other restrictions."
Governor Lolo told Ingram, "we have no recourse but to extend the closure for another 30 days which moves reconsideration to Augsut 1."
"While we have increased our quarantine capability," said Lolo, "our only acute hopsital's capacity is very limited it can easly be overwhelmed if we have a coronavirus outbreak. Accodingly, we are again petitioning the suspension of Hawaiian Airlines' flights until August 1.
The governor's letter was attached to a filing by Hawaiian Airlines to the US Department of Transportation today for an exemption from service obligations.