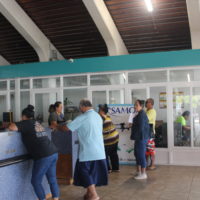 Less then 20 people were taken in for quarantine at the Department of Youth and Women Affairs Center in Pago Pago on the first day of repatriation flights from Samoa on Wednesday.
That number doesn't include those who traveled from Samoa today on the one flight by Samoa Airways, today. Talofa Airways did not have a flight.
The total number of passengers who arrived yesterday was 17 and they were all taken to the DWYA Center.
KHJ News received confirmation that a male passenger traveling on a Samoan passport but with an American Samoa ID card, had tried to get out of being taken into quarantine. He insisted that he was just here for two days and was returning to Samoa on Friday.
DOH made sure he was taken into quarantine nonetheless.
How he was able to get on the flight when it was made clear that only returning residents would be allowed to come from Samoa and vice versa is not clear.
According to a schedule of the repatriation flights issued by the Department of Health the flights will be conducted in 3 phases.
1st: June 17=19,
2nd: June 23-25
3rd: June 30.
DOH says the following documents are required for travel clearance:
The American Samoa Department of Health COVID-19 Health Clearance form is to be completed by the Samoa Ministry of Health within 3 days prior to travel to American Samoa.
All travelers who are symptomatic (coughing, fever, difficulty breathing) will be placed in mandatory isolation upon arrival.
Travelers must adhere to mandatory COVID-19 testing upon arrival and complete full 14-day quarantine as required by Public Health.
All incoming travelers must provide passport verification of no travel history to other countries outside of Samoa in the last 60 days
All travelers must hand carry necessary medications and ensure airlines bring their checked in luggage.
All returning Samoa residents must obtain a health cleaance from Tafuna and Leone Health Centers. DOH asks that you call ahead to make an appointment.
Upon arrival at Pago Pago International Airport all travelers will:
Present a filled travel declaration form to Public Health team.
Present completed health clearance form stamped by Samoa Ministry of Health.
Go through a screening process to assess the validity of the health clearance and a general examination to include a temperature check.
Passengers will proceed to acquire immigration clearance.
Passengers will board ASG transportation to designated quarantine sites.