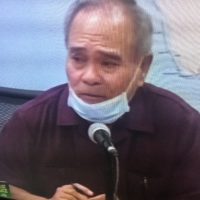 The Fifth Amended Emergency Declaration for COVID-19 issued  last night by Governor Lolo Moliga continues the Code Blue status with relaxation of some rules.
Effective today public gatherings which include religious worship of no more than 150 people will be allowed; however the public is requested and encouraged to continue to practice social distancing including the use of masks when attending public gatherings. If they fail to meet this rule they can be charged with a Class A misdemeanor.
Businesses hours of operation which were 6am to 6pm since March 23 have been changed to 5am to 9pm. But businesses can only allow no more than 50%  capacity. Again social distancing is encouraged along with the use of masks.
StarKist and businesses that support it in water production and oxygen gas production are exempted from the business hours limit.  Businesses are encouraged to keep their facilities sanitized.
Buses and taxis, which were under the same hours as businesses, can now operate from 5am to 9pm. But they can only have half the number of passengers their vehicles can carry at any one time.
Further the authority to revoke certificates of necessity is delegated from the Commerce Commission to the Commissioner of Public Safety. But all hearings and appeal rights for revocation remain with the Commerce Commission.  This authority is in effect for the duration of the public health emergency.
Buses that transport StarKist Samoa employees are exempt from this rule.
All Hawaiian Airlines flights remain suspended for an additional 30 days with reconsideration slated for July 1.
Samoa Airways and Talofa Airways flights also remain suspended however this restriction will be reviewed depending on the COVID-19  status for both countries.
All public and private schools, daycares and ASCC remain closed for the remainder of this school year and during the additional 30 days of this amended declaration.
The new declaration does not mention anything about parks and beaches but during the Coronavirus Task Force meeting yesterday Governor Lolo said that parks and beaches are now opened.
The governor also said that bingo is not classified as an essential public gathering so it's not allowed.  He  pointed out that the setting of bingo games where people sit close to each other, poses a risk.
When Director of Education Dr. Ruth Matagi Tofiga asked about having school sports during the summer, Lolo said individual sports events would be encouraged but not ones where all the schools will participate.
All ASG employees 60 and above who up to now have been working from home will begin reporting back to their workplaces today.
Their departments are to schedule a full four day work week , not to exceed 32 hours per week for them. For the remaining work day in each week, these employees will be placed on furlough status.
For the rest of the workforce, departments are to stagger 50% of their workforce throughout the week and they will work 20 hours per week and receive full pay for 40 hours per week.
You can read the full 5th amended emergency declaration for COVID 19 by clicking here: 2020-signed-5th-declaration