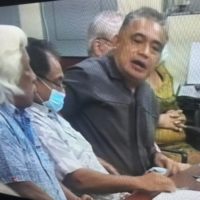 In their report at the Coronavirus Task Force meeting yesterday, the Department of Health said 240 COVID-19 tests have been carrieD out and all have produced negative results.
Fifty-nine first responders are included in the group that was tested.
DOH hopes to test about 2% of the population each month and that will include people going to the health clinics, the hospital and dialysis centers.
Testing of first responders, including police, firemen, and other departments in front line work will continue this week.
For quarantine facilities, there's now room for more than 300 people to be quarantined. The TAOA Center in Pago Pago will add 20 beds and Sadies by the Sea will add another 80.
CEO of LBJ Hospital Faumuina John Faumuina reported that the remaining components for installation of the ABI 7500 Real Time Machine, deemed to be the most reliable for COVID-19 testing, have arrived.
He expects installation of the machine and negative pressure room to store it to be completed within two weeks after which the Army Corps of Engineers wll calibrate and cetify the machine.
LBJ Hospital now has 38 ventilators and its awaiting ten more.
Faumuina also reported that LBJ Has 80 vials of the drug that treats coronavirus Remdesivir.