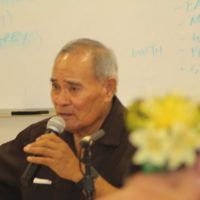 The Fifth Amended Emergency Declaration for COVID-19 has just been released. Click on link for complete text.
2020-signed-5th-declarationThe 
The main changes under the new amended declaration are that public gatherings including church services are permitted, however, there's a limit of 150 people and social distancing must be practiced at all times.
Business hours of operation are from 5 am to 9 pm but businesses can only allow 50% of their capacity.
Buses and taxis are permitted to operate from 5 am to 9 pm but they can only carry half the number of passengers of the capacity of their vehicles. Buses for StarKist employees are exempt.
Hawaiian Air flights are suspended for an additional 30 days with reconsideration set for July 1.
Samoa Airways and Talofa Airways flights will remain suspended but will be reviewed depending on the COVID-19 status of both Samoa and American Samoa.
All schools will remain closed for the next 30 days and the current school year is now ended. The new declaration is in effect until July 1.