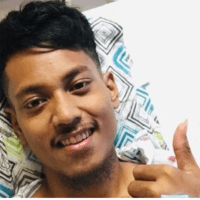 The bone marrow transplant for Manu'a native Fala Letini Mauga at Stanford Medical Center is now scheduled for next week.
Fala was diagnosed with leukemia and his younger sister Faavela is donating her bone marrow for him.
Felea'i Tau, a special assistant to Hawaii Lt Governor Josh Green told KHJ News that Fala's case manager reports that he and his sister are doing well and are preparing for transplant clearances now.
Lt Governor Green helped arrange for Faavela to travel from the territory to Honolulu on a military plane that delivered COVID-19 supplies earlier this month.
Lt Governor Lemanu Peleti Mauga had requested assistance for the airlift.
The transplant is set for next week.
Another sibling is with Fala and Faavela in Palo Alto.
Faavela's twin sister who lives in Hawaii is serving as Fala's caregiver.