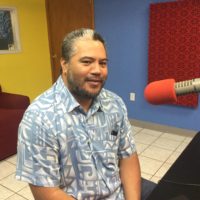 The 9,300 people listed in the Treasury's press release earlier this week as receiving Economic Impact Payment or stimulus checks tomorrow are those who filed their 2109 taxes up to May 14.
Deputy Treasurer Keith Gebauer says the average number of tax filers in the territory is between 10,000 and 12,000.
Some filers do not qualify for the stimulus checks.
Appearing on today's Morning Show on 93 KHJ, Gebauer answered questions about the first round of stimulus checks.
He started with an explanation of the 9,300 taxpayers covered in the first round.
Play Audio
About $24 million will be distributed tomorrow  for those who filed their 2019 taxes up to May 14.
Those who haven't filed their 2019 taxes but filed their 2018 taxes should be receiving their checks next week.
For those who don't have Post Office boxes,  call the Disbursing Office at
633-4155
on Tuesday and schedule a time to pick up your check.