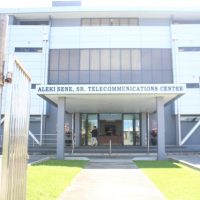 The Board of Directors of the American Samoa Telecommunications Authority plans to begin interviewing applicants for the position of ASTCA CEO next week.
Board member Alofagia Nomura says there were seven applicants for the position, six local applicants and one from Samoa.
KHJ News understands that Acting CEO Falavaoto Sualevai, who is also the Chief Financial Officer and Chief Operations Officer of the government telecommunications company is one of the local applicants.
Mrs. Nomura said the position was only advertised locally in the Samoa News.
She sad the board wants to proceed with interviews next week and hope to make a selection shortly after.
The successful applicant replaces former CEO Lewis Wolman whose contract expired April 30.
There's been skepticism with the ASTCA CEO vacancy because the last time it was advertised,  and the board had shortlisted applicants, Governor Lolo Moliga selected then chairman of the Board Puleleiite Li'amatua Tufele as CEO.