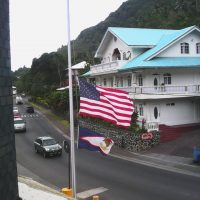 Flags in the territory are flying at half staff in honor of those who have died from COVID-19  across the United States and territories.
Governor Lolo Moliga issued a memorandum today ordering the lowering of flags from today until sunset on Sunday, May 24.
"While American Samoa has been blessed to remain without a COVID- 19 case, the pandemic has taken a tremendous toll on the rest of the country." said Governor Lolo.
"The latest figures show that more than 1.6 million people have contracted COVID-19 with nearly 100,000 lives being claimed in the United States.
"We give our heartfelt condolences to those who have suffered and lost loved ones to this devastating disease."
"In keeping with the proclamation issued by President Trump to honor the victims of COVID-19, I hereby order that the flags of the United States and American Samoa at government buildings be lowered to half staff immediately and remain so until sunset Sunday, May 24."
In the same memo Governor Lolo stated. "In recognition of our fallen servicemen and their precious sacrifice, the flags are to be lowered and raised again on May 25, in accordance with proper Memorial Day protocols.  We do this to show our eternal appreciation of those who lost their lives to protect our freedom, and safety."
Wreaths will be laid at the Satala cemetery, at sea, and at the Veterans Monument in Tafuna on Monday morning.