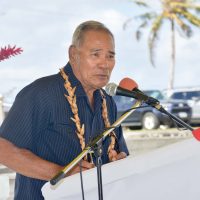 Govrnor Lolo Moliga is pleased to announce that the US Department of Labor has approved our application under the Employment & Training Administration the award of $16.2 million through the CARES Act of 2020 to administer the Unemployment Insurance Programs for American Samoa.
On May 21, Governor Lolo signed an Executive Order to administer the Pandemic Unemployment Assistance (PUA) and Federal Pandemic Unemployment Compensation (FPUC) programs for the territory's workforce affected by the COVID-19 pandemic.
Governor Lolo acknowledges with gratitude the hard work and diligence by Director of Human Resources Eseneiaso Liu and her staff who facilitated receipt of these much needed funds to provide financial relief to those who were furloughed or had their hours reduced because of our collective efforts to stop the entry and spread of the COVID-19 .
Governor Lolo stated, "I am truly thankful to the Honorable Assistant Secretary  of Employment and Training, John P. Pallasch and the US Department of Labor for continuing to be very sensitive and responsive to the needs of the people of the Territory of American Samoa.