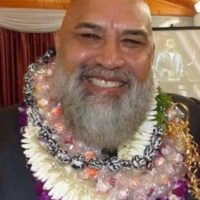 "Please reopen the church doors of American Samoa.  We are COVID-19 free. "
That's a plea from Pastor David Katina of Great Life Church, Leone, to government leaders.
"As a Christian and a pastor, I understand and fully embrace my responsibility to pray for our governmental leaders and I make sure to handle my priesthood responsibilities seriously on a daily basis. I wholeheartedly, on my knees pray for our government and civic leaders daily," he said on a FaceBook post.
"Our governmental leaders will do what is right in their eyes but we as Spiritual Leaders must not allow global and local crisis (including COVID-19) to make us grow weary and lackadaisical regarding the position of the Church."
Pastor Katina said he's using social media to respectfully ask government leaders to please reconsider the lock down of church services and gatherings.
"This virus is as much a spiritual issue as it is a governmental issue. God has blessed, saved, and protected American Samoa from this pandemic which I believe can be credited to wise governmental actions but most of all the power of prayer."
He noted that after nearly three months since the shutdown of weekend gatherings, "we as ministers and church leaders have adhered to our due diligence in obeying the laws of the land and honoring the decision making of our leaders.
"But personally, I believe it's high time to re-open the altars of worship. My prayer is that my two cents would be read and considered by those in power. Please let the people gather to corporately give thanks to Almighty God for His protection upon our island."
He states,  "Although we (ministers) may not be considered "essential workers" in the typical equation of this global pandemic, but since the shutdown of worship gatherings, many of us ministers have had to deal with familial breakdowns in proportions that cannot be ignored.
"These real life situations can not be solved by any amount of compensation or stimulus assistance. As we see the stress on family relationships mounting, I am asking you to please allow the reopening of our places of worship as "community" is so important to the health of the aiga/family."