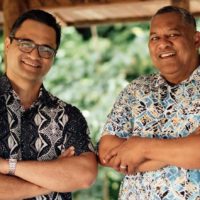 The  gubernatorial team of Lemanu Palepoi Sialega Mauga and Talauega Eleasalo Va'alele Ale  rolled out its campaign platform  this week starting with health care.
According to a press statement, the Lemanu-Talauega team ranks Health Care as its number one priority.
"Health Care affects every single one of us – from the moment we are born to the moment we die. If we are not healthy, we cannot learn, we cannot work – our families, education and our economy will be negatively impacted when we are afflicted with medical issues and the costs," said the statement.
The platform on health care is divided into three categories:
Health Care Workforce Development
Medical Infrastructure
Medical System Innovation
The Lemanu-Talauega team says one of the issues which must be addressed is health care services for people with cancer.
"Cancer has become so prevalent in our community and we don't have the services on island to give our people options for cancer treatment."