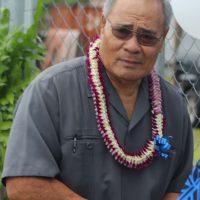 In his third request to the President and CEO of Hawaiian Airlines to suspend flights to American Samoa, in order to prevent the arrival of COVID-19, Governor Lolo Moliga cites 6 factors:
that the coronavirus pandemic in the United Stated and around the world continues to soar, and in some communities which eased restrictions there was a resurgence in confirmed cases;
that while we have started COVID-19 testing, we still lack sufficient number of test kits and there's no steady supply from CDC, FEMA and the Food and Drug Administration to test the local population as well as travelers to the territory
quarantine facilities dwarf the number of Hawaiian Airlines passenger loads of 200 to 270 per flight
contract tracing is not developed to the level that can trace possible carriers of the virus if there's one confirmed case in the territory
insufficient number of beds to accommodate COVID-19 patients
scientists and health experts say there's so much unknown about the virus and a vaccine is still in the distant future.
The governor said in his May 19 letter to Mr. Peter Ingram, Hawaiian Airlines President and CEO, although there are 12 days left of the current COVID-19 Emergency Declaration he intends to extend the border closure by another 30 days.
And he's asking that Hawaiian Airlines continue the suspension of flights to American Samoa to June 30.
Governor Lolo told Mr Ingram that the leaders and people of American Samoa are grateful to Hawaiian Airlines for "continuing to place lives before profits."
And through the airline's commitment of saving lives, American Samoa "holds the distinction of being the only United States jurisdiction" without a confirmed coronavirus case.
But not everyone is pleased with the suspension.
"I am feeling the frustration, annoyance, anger and discontentment over my decision to suspend Hawaiian Airlines flights to American Samoa, but would gladly accept the public outcry if we don't lose one life to this deadly disease," the governor informed the airline CEO.
Vice President Ann Botticelli told KHJ News today  that Hawaiian is accepting  Governor Lolo's request and there will be no flights to American Samoa until the end of June.