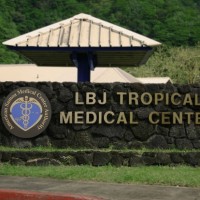 While preparations continue on facilities for any COVID-19 patients, the LBJ Hospital is also taking steps to ensure that in the event we have deaths from the virus, that corpses will be stored and handled properly and in a respectful manner.
LBJ CEO Faumuina John Faumuina said that corpses from COVID -19 deaths cannot be stored in the morgue because of the infectious and contagious nature of the virus.  They must be kept in an isolated storage.
Faumuina said a local company has donated two container freezers for this purpose.
LBJ is preparing a site behind the hospital morgue to place the containers  which should be ready next week at which time the company will officially present the containers to LBJ.
The morgue can store up to six bodies.
According to the CEO,  there are three bodies which have been in the morgue for 3 months up to a year and they have to be removed.
He said at the Coronavirus Task Force meeting Sunday that no one has come forth to claim the bodies and he requested Governor Lolo Moliga if  they can be buried at the Satala Cemetery.
The governor directed the acting attorney general to issue a legal notice advising that if after 30 days the bodies are not claimed, the government will proceed with burial.
Faumuina told KHJ News that the bodies of a Caucasian man and a Samoan woman have been in the morgue for one year, while that of a Filipino man has been in the morgue for 3 months.