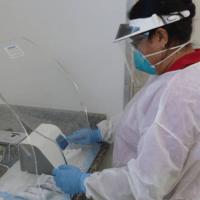 With about 2,300 test kits now on island for coronavirus testing, health authorities are proposing that testing of front line workers at the LBJ Hospital and Department of Health be carried out.
That is the recommendation from the LBJ Hospital and Department of Health to Governor Lolo Moliga.
The governor had asked at the last Coronavirus Task Force meeting a week ago Sunday for doctors to come up with a recommendation on the number of people that should be tested to determine if the virus is present in the territory.
If the recommendation meets the governor's approval it's planned  that the testing will get underway as early as next week.
As of this morning the number of coronavirus tests conducted is 107.  The latest tests were for patients who were medivaced to New Zealand.
Questions have been asked if DOH is at the airport every time a plane lands to make sure those stepping off aircraft are tested and quarantined.
KHJ News has been told that the only aircraft with people arriving or leaving are the air ambulances from New Zealand and military aircraft.
Aircraft making refueling stops at the airport are still being allowed; however, no one leaves the aircraft as Pago Pago International Airport remains open.
The same with the weekly cargo flight. The only time that crew members will leave the cargo plane necessitating COVID-19 tests for them is when there's a breakdown and the crew has to overnight here.
The team of four from the US Army Medical Service Corps who arrived Friday is helping the LBJ Hospital and Department of Health with COVID-19 testing and also providing staff training.