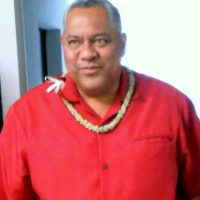 Lt Governor Lemanu Peleti Mauga is back on island after nearly two months in Hawaii.
Lemanu had traveled to Honolulu in early March and was supposed to return at the end of that month however the flight he was supposed to come on never happened…after Hawaiian Air suspended flights at the request of Governor Lolo Moliga as a safeguard against coronavirus.
Lemanu traveled here on a military plane last Friday together with four members from the Army Medical Service Corps, two FEMA officials and a representative from the Centers for Disease Control and Prevention.
The CDC rep assigned to the Department of Health to oversee CDC issues is the daughter of Mr. and Mrs. Kalili Hunt of Auto.
Chairman of the Coronavirus Task Force Iulogologo Joseph Pereira said the medical Corps team will be working with LBJ Hospital and Department of Health on coronavirus testing.
They brought their own Abbot machine, same as the one DOH uses for COVID-19 tests.
However the team didn't bring their own test kits so they'll be using the test kit supplies now on island.
Iulogologo said the team's presence will increase the number of coronavirus testing done locally.
"More importantly is the training they will provide for our lab technicians and medical personnel dealing with COVID 19 issues," he commented.
The military aircraft also brought more Personal Protective Equipment supplies.
Under the current emergency declaration all travelers to the territory must undergo a COVID-19 test three days before travel and be subject to 14-day quarantine upon arrival.
Director of Health Motusa Tuileama Nua says all of the travelers on the military flight on Friday have had COVID-19 tests. All tested negative.
Lt Governor Lemanu is being home quarantined while the other personnel are staying at Tradewinds and are subject to daily health checks by DOH.