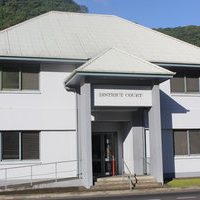 A young woman with prior convictions is accused of stealing money from her grandmother to buy crystal methamphetamine for her and her boyfriend.
The Samoa News reports that Annie Faatupu made her initial appearance in District Court on Monday on charges of stealing and disturbing the peace.
On April 24th, the defendant's grandmother reported to police that she was missing her purse which she had hidden under her bed. Inside was $630.
The grandmother suspected that Faatupu had stolen her purse as there had been a pattern of her taking stuff and money before.
An off duty police officer spotted the young woman in front of a store in Nu'uuli with a man and contacted police.
She was picked up and taken to the Tafuna substation for questioning. During a body search police discovered a black purse which the defendant admitted belonged to her grandmother.
Faatupu told police that she had stolen the purse which had $630 inside and used the money to buy food, clothes and meth for her and her boyfriend.
She also told police she gave $210 to her boyfriend.
The young woman had served time and was on probation for prior convictions of stealing and possession of unlawful drugs.