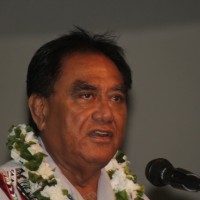 in his report at the Coronavirus Task Force meeting with Governor Lolo Moliga on Friday. CEO of the LBJ Hospital Faumuina John Faumuina said that a machine to conduct  COVID-19 tests was arriving that afternoon.
This is the machine that the LBJ Hospital purchased with the help of Elder Vincent Haleck of the Church of Jesus Christ of Latter Day Saints.
The CEO said a building to house the machine is nearly complete, there are some parts they are waiting on to arrive from off island. LBJ Hospital is requesting California to include their order  in the state's orders for reagents and test kits from South Korea.
Regarding ventilators he said LBJ currently has 15 and 20 are on order, ten of which should be arriving on April 10.
The hospital also expects to take delivery of a negative pressure medical tent that would tackle the overflow of any COVID-19 patients from the 8- bed COVID-19 Ward.  The negative pressure is due to arrive April 17.
Faumuina explained that the staff who will work in the COVID-19 Ward will not work anywhere else in the hospital but will be dedicated fully to the care of any coronavirus patients.  The hospital has prepared four decontamination units where the staff will clean up at the end of their work shifts before they go home.