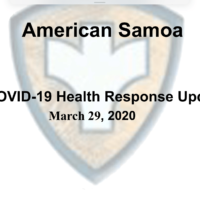 The two swabs sent to Honolulu for testing on last Thursday's Hawaiian Airlines flight were both negative for coronavirus.
That's according to a report by Health Director Motusa Tuileama Nua at an Emergency Operations Center briefing held yesterday afternoon and aired on KVZK-TV last night. These tests were conducted at the Hawaii State Lab.
There are two other swabs awaiting shipment to Honolulu.
To summarize, there have been three COVID-19 tests conducted off island and all three were negative for coronavirus.
The first one which was sent to CDC Atlanta was negative and the two conducted at the Hawaii State Lab were also negative.  American Samoa has not recorded a confirmed COVID-19 case.
A total of 684 arrivals on Hawaiian Airlines from March 16 to March 26 are in quarantine…52 are medically or full quarantined and 632 are home quarantined.
All 165 travelers from Samoa between March 18-March 24 are medically or full quarantined.
The quarantine center at the DYWA Center in Pago Pago has now been closed and the only ones still opened are the VA Center which has 20 occupants, Fatuoaiga with 34 and Leone with 8. Kananafou has 36.
It was also announced at the EOC briefing that FEMA is arranging a military flight to bring down COVID-10 supplies
The flight arriving tomorrow is bringing a shipment of personal protective equipment and ventilators.
Samana told KHJ News that the shipment didn't make the last Hawaiian Air flight last Thursday.
He said they are also requesting FEMA for cots and blankets.
Personal Protective equipment such as masks, gowns, gloves will be distributed to first responders, said Samana.
FEMA representative Holly Fuller spoke at yesterday's briefing.
Play Audio
Ms. Fuller was referring to Lt. Governor Lemanu Peleti Mauga, who has been in Honolulu for more than two weeks.