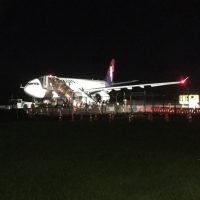 Hawaiian Airlines  has been asked to suspend flights to American Samoa for 30 days.
The  request  came from Governor Lolo Moliga  in a letter he sent off today to airline President and CEO Peter Ingram.
And Hawaiian Air has agreed.
Calls have been mounting from members of the public and even government leaders to halt flights from Honolulu as the number of coronavirus cases in Hawaii and US states with large Samoan communities continue to soar.
The governor said that we have been caught by surprise and unprepared to address the impact of the deadly coronavirus.  We are frantically trying to construct quarantine facilities and our public health system is at the edge of collapsing.  The flight which came in last night caused an overflow at the makeshift quarantine centers.
As KHJ News reported this morning, 42 of the more than 140 passengers were medically quarantined.
The governor said, "We cannot test for COVID-19 on island and CDC would not distribute testing kits for us."
Without testing on island while we have not had a confirmed case, "we don't know if an asymptomatic carrier is silently spreading the disease."
"Hawaiian Airlines is our only means to get patients to Hawaii," wrote Lolo, "and our test specimens are transported to Hawaii and other US labs on Hawaiian Airlines.  In addition, our emergency supplies are brought in on Hawaiian Airlines at times."
But he said, "Although the need for HA's service to American Samoa is apparent, "the lives of our people take precedence."
A new  requirement for all travelers to be COVID -19 tested was put in place as a condition to travel to the territory.
But said Lolo, "I took an oath to protect our people to the best of my God-given ability.  In this spirit, I ardently request if it is at all possible to suspend all Hawaiian Airlines flights to American Samoa for a minimum of 30 days or more predicated on the coronavirus curve for the United States, but particularly for Hawaii and American Samoa."
Responding to KHJ News, Hawaiian Airlines Vice President, Corporate Affairs, Ann Botticelli said,  "We are just now sending CEO Peter Ingram's response to Governor Moliga letting him know that we will be suspending service to Pago Pago, at his request, for at least 30 days.  Our best wishes to the people of American Samoa. "
The weekly cargo flight is continuing albeit there are delays.  The US Postal Service says if HA suspends flights to the territory, all mail would move for the cargo flight.