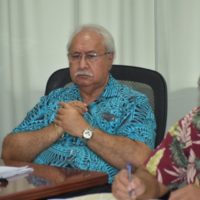 The directive to have ASG employees work ten hour shifts for four days a week, has been described by several employees as ill conceived.
They point out that when they report to work at 5 or 6am they don't have members of the public to serve.
They say ten hours is too long, and for some who don't have vehicles, the buses are not operating after 6 when they get off work.
Some mothers are also worried about leaving their children at home for such a long time.  And finishing at such a late hour means dinner for their families will be served late.
The chairman of the ASG Coronavirus Task Force Iulogologo Joseph Pereira said the objective is to lessen the number of people working in the office. Employees will work only four days.
"Government employees need to know that life and its associate convenience has change dramatically by this crisis. The Department of Human Resources is monitoring the situation and it will revise its advisories and polices accordingly. We are operating under the cloud of great uncertainty so sacrifices are expected. *