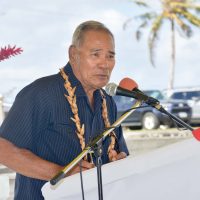 Enforcement of directives under the COVID-19 Emergency Declaration steps up a notch under a new executive order that the governor issued today.
It gives the Commissioenr of Publikc Safety, Director of Heath, Attorney General and other agency leaders enforcement of the declaration now in effect, subsequent declarations and all lawful orders of the Director of Health and other emergency management agencies.
A violation of a public healh directive in a declared public health emergency is a Class A misdemeanor. This carries a fine of up to $1,000 and or a jail term of up to one year. Each violation may be charged as a deparate offense.
The executive order cites that under the American Samoa Code Annotated congregating with other persons in a public place and refusing to comply with a lawful order of the police to disperse constitutes a public peace disturbance.
That is a Class B misdemeanor which carries a fine of up to $5000 and a jail sentence of up to six months. Each violation may be charged as a separate offense.
"The public is advised that compliance with these directives is mandatory. And full compliance is necessary to protect the health of our most vulnerable citizens," states the executive order.
The Commissioenr of Public Safety is directed to ensure that the public complies with restrictions on public gatherings, business closure requirements, quarantine directives and other requirements. The Attorney General is directed to prosecute violation to the fullest extent of the law.
The executive order includes additional provisions related to price gouging and quarantine.
Businesses must continue to provide necessary supplies for the public.
Price gouging is prohibited. During an emergency businesses cannot raise their prices more than 10% on essential items such food, water, gas and building materials.
The public is encouraged to report incidents of price gouging to the Office of the Attorney General.
The Department of Health is authorized to quarantine and isolate individuals for 14 days without notice.