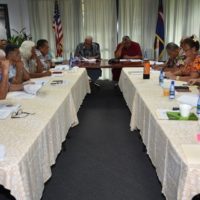 ASG employees, 60 years and older who have been instructed to work from home under the emergency declaration for coronavirus should be forewarned that their movements will be monitored.
Governor Lolo Moliga told the cabinet yesterday that Public Safety, Homeland Security and Human Resources will enforce policies under the declaration including the movement of those who are working from home.
He reiterated his earlier instructions for employees 60 and older not to report to work but to stay and work from home.
The governor said the aim is to minimize people congregating in offices and minize people's movements.
According to him the only justifiable reasons for those workers to leave their homes is to shop or go to the hospital.
He directed Homeland Security, police, and the Attorney General's Office to monitor theoe employees and if they are out and about for any other reasons, their hours should be docked.
Lolo told the cabinet that for the four weeks of the declaration all those working at home will be paid their 40 hours per week.
They will monitor ASG finances and see if they can cover salaries of this group after the initial four weeks.
ASG employees are working four 10 hour days per week but its left to each department to stagger hours for their staff to ensure that services are maintained.