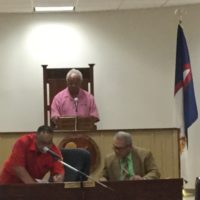 The Fono is now on recess for just over four weeks.
Both the House and Senate approved a House concurrent resolution this morning adjourning the Third Regular Session of the 36th Legislature for 34 calendar days.
This comes after Governor Lolo Moliga wrote to the Fono leaders recommending that since COVID- 19 seems to "target the elderly and the propagation speed is high in closed quarters" he recommends the suspension or closure of the legislative session for the duration of the emergency declaration to reduce the risk of virus transmission.
The governor said that as leaders of the territory "we are morally and ethically obligated to safeguard the lives of our people and not to expose them to harm or danger."
He said the most salient and effective option to contain the spread of the coronavirus is social distancing and most of the embargoed activities in the declaration are designed to advance this recommendation.
The House convened at 8 this morning and passed the resolution for an early session adjournment and then sent the measure to the Senate which also passed it.
The measure states, "As the territory joins the world in the fight against the threat and spread of the COVID-19 virus the Legislature wishes to comply with the government's advisory and restrictions for government workers and prevent the spread of the virus.
It also states "many legislators are part of groups who are mandated to remain at home to avoid contracting and spreading the virus.
"It would be prudent to recess until health officials and the government deem it safe for full work schedules and permit age groups to return to school, work and have social gatherings."
This would be the second recess for the current Fono session.