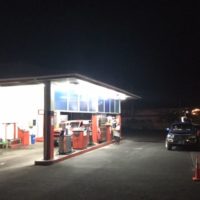 Members of the public have been asking if service station are exempt from the 6 am to 6 pm business hours.
The Chairman of the Governor's Coronavirus Task Force Iulogologo Joseph Pereira said that he is currently reviewing requests from service stations for transmittal to the governor for his decision.
For public transport like taxis and buses, the chairman said that all taxis and buses must comply with the dictates of the emergency declaration, which means their operations will cease at 6 pm.
"We are discouraging movement by our people so they can stay at hone," said Iulogologo.
The only exception is for buses contracted by StarKist to transport workers.
Iulogologo said all businesses must close at 6 pm except for drive-thru service, in which case employers are responsible to transport their workers home.
Carl's Jr. drive-thru last night was closed by police after 6 pm. However, KHJ News received reports that the McDonalds drive-thru in Fagatogo stayed open 24 hours.
Carl's Jr. clarified today it only has take out, no dine-in service during the emergency declaration for COVID-19.
"We are allowed 10 people in the restaurant at one time for take out.  We have just been informed that we can open our drive thru past 6 pm to 12 am but our take out service will still only be available until 6pm."