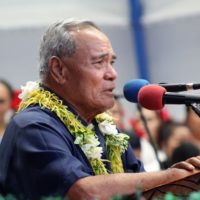 It was also announced at yesterday's cabinet meeting that starting yesterday all COVID-19 related information will be released to the public through the Governor's Office.
And this rule was reinforced in a March 22 memo from Governor Lolo Moliga to the cabinet.
Lolo said, "While we want to calm the fears and anxieties of our people by letting them know what is going on, any disinformation can upend this objective making it imperative that we don't allow this to happen."
So he's putting in place protocols to prevent the release of inaccurate information to the public "as it only serves to undermine our credibility causing unnecessary suspicion over the accuracy of the information we choose".
Accordingly, to reduce the potential of disinformation going out to the public, starting yesterday questions from the public concerning the COVID-19 declaration are to be directed to the Governor's Office.
Health related questions are to be relayed to the Director of Health. Travel advisory questions are to be related to the Attorney General.
All other COVID-19 related questions will be directed to the Governor's Office.
In the same memo, Lolo said if any of the cabinet has issues with the decisions made on the policies that have been put in place "please discuss your opinions and comments with me instead of projecting them to others in the community or even the media."
He reminded, "One of the keystone values of our administration is transparency. You are part of this administration and it is your sworn duty to adhere to the articulated policies and guiding principles."