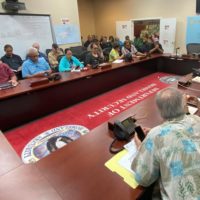 A revised travel advisory issued by the Department of Health today in response to COVID-19 or coronavirus will not require US passport holders and residents of American Samoa traveling from and transiting in US states with COVID-19 cases to spend 14 days in Hawaii and obtain a health clearance three days before arrival in American Samoa.
This was one of the requirements in a DOH advisory issued last Wednesday and was to go into effect tomorrow, March 9.
However Director of Health Motusa Tuileama Nua, speaking to KHJ News by phone after a briefing at the Emergency Operations Center this evening, said the cost to the government would run into the millions of this rule was enforced.
Instead DOH will beef up screening of passengers upon arrival at Pago Pago International Airport.
According to the revised advisory to take effect March 9, US passport holders and residents traveling from or transiting in affected US states will be subject to all health screening procedures and may be medically quarantined or home quarantine. All those who are home quarantined can't leave their homes until cleared by a DOH physician.
All those traveling via Hawaii from foreign countries with COVID-19 cases will be required to spend 14 days in Hawaii and obtain medical clearance three days before arrival in AMerican Samoa. They must also complete a DOH travel declaration form.
For travelers from American Samoa to Samoa and return, they must obtain health clearance from Tafuna Health Clinic, signed by physician and Director of Health. Those staying more than 3 days in Samoa must obtain health clearance from Samoa Ministry of Health before arrival in the territory.
For travelers from American Samoa who travel beyond Samoa (e.g. New Zealand, Australia, Fiji, Tonga) then return, you must spend 14 days in Samoa and obtain a health clearance from Ministry of Health 3 days before arrival in American Samoa. You must also provide itinerary upon arrival in American Samoa.
The reduction of flights to two per day per airline, for Samoa Airways and Talofa Airways, which was included in the travel advisory issued last week, will not go ahead.
Talofa Airways weekly flight to and from Tonga is suspended.
All charter flights are suspended until further notice.
Cruise ships will not be allowed to enter.
All entry permits are suspended except for returning residents with valid IDs or Immigration Board approval.
DOH strongly advises that those intending to travel to US affected states and foreign countries to postpone their travels unless necessary.
All residents who are traveling abroad are advised to return to American Samoa.
The advisory is subject to change as circumstances relating to COVID-19 changes.
It was also announced that the measles outbreak is now lifted.
Governor Lolo Moliga, who is in Honolulu now after a medical check up in Seattle, addressed today's briefing by video teleconference.
The governor announced a Coronavirus Task Force to be chaired by his executive assistant Iulogologo Joseph Pereira, with the Director of Health and CEO of LBJ Hospital as co chairs.  16 directors are members of the Task Force which will also have a working staff comprising doctors, Governor's Office staff.
The briefing also heard from VA Dr. Fred Urhle who said that the 14 day quarantine in Hawaii makes no sense.
According to him many of those infected will not have any symptoms of the virus.
"Someone exposed and whave virus in them can start giving it to someone else within 4-5 days, of initial exposure and shmptomns will not show up until two weeks later, " said Dr. Urhle. He said we should step up screening and be prepared but we won't be able to identify everyone with the virus.
He also noted that keeping travelers in Hawaii will be a big burden to DOH and/or the travelers themselves.
Click here for the full revised advisory.American