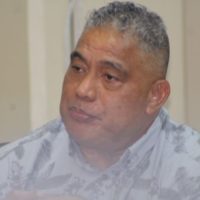 An American couple who traveled to the territory via Apia yesterday, were taken in for quarantine at the Leone Health Center yesterday.
Director of Health Motusa Tuileama Nua said in response to KHJ News questions that  the couple had been on a cruise and had traveled to Coronavirus infected countries.
They did not meet the 14 day quarantine in Samoa before arrival in the territory so they were taken to Leone where they will remain until they they leave the island tomorrow night.
Another US passport holder who was at the Leone Health Center after visiting New Zealand, was released to depart the territory on Monday night's flight.
A CCCAS minister and his wife  taken to Leone over the weekend because they didn't meet measles quarantine regulations were also released.
The Health Director explained that the couple had received their MMR shots however they did not meet the 14-day before travel requirement.
So they signed a waiver agreeing they would not return from Apia until the 14 days were up.
However they returned to the territory earlier and airline staff in Apia let them on the flight.
At Tafuna the couple was told they had to go into quarantine per the waiver they signed.