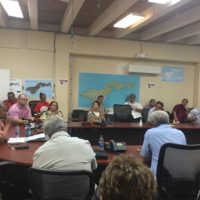 At yesterday's briefing on measles and COVID-19 or Coronavirus, doctors urged a return to basic personal hygiene to help protect you and your family from the new virus.
Drs Reese Tuatoo and Saipele Fuimaono said that sysmptoms of COVID-19 are similar to flu.
They said people can protect themselves by washing hands at least for two minutes, covering mouth when coughing or coughing into your sleeve.
The doctors pointed out that world stats on CONVID-19 show that most of those who have contracted this new virus are 65 and above, whose immune systems are compromised. Those with lung diseases are especially vulnerable.
Dr. Tuatoo said basic hygiene should be practiced at all times.
Play Audioreese-handwashing-2