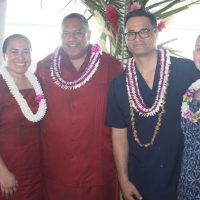 The latest team to announce their candidacies for the 2020 gubernatorial race, Lt Governor Lemanu Peleti Sialega Palepoi Mauga and former Attorney General Talauega Eleasalo Ale will campaign on the theme Integrity, Leadership, Commitment.
The crowd of relatives, friends and supporters who witnessed the official announcement at the guesthouse of Savea in Matuu on Saturday, included House Speaker Savali Talavou Ale, an uncle of Talauega, former Governor Togiola Tulafono, a relative of Lemanu, Eenators Suiaunoa Sauletufuga and Levu Solaita, Secretary of Samoan Affairs Mauga Tasi Asuega and Western District Governor Fuamatu Fuamatu.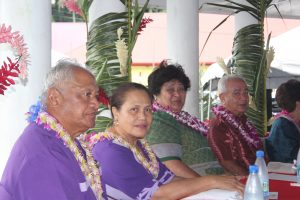 In his speech, Lemanu recalled the words of the late A.U. Fuimaono that in order to attain leadership one has to "tread the rocks and breath the dust."
He said he and Talauega have walked that path and know and understand what it takes to lead the territory.
Lemanu declared that they are ready to take the reins of leadership for Tutuila, Manu'a, and Olohega.
He told the crowd that many of our children are leaving, they have moved and have settled outside, they are in search of a future.
Lemanu implored, "We should not let our children go. They are our treasures, the ones who will continue the work of past and present leaders in government."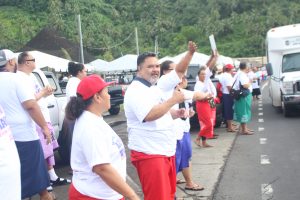 The candidate for governor also formally announced the Talauega Lemanu Campaign Committee Chairman, Malemo Tausaga, who emceed Saturday's event
Candidate for lt governor  Talauega whose remarks were delivered entirely in English said in the coming weeks they will share their plans for improving health care, upgrade infrastructure, diversify the economy and improving educational performance and standard.
He said these challenges are not new but solutions  must be new.
Play Audio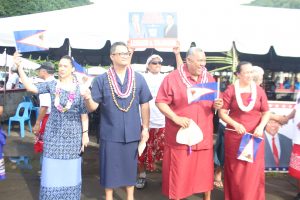 The two candidates and their wives then joined supporters for a roadside wave.
The Lemanu Taluega team also held a church service at the CCCAS Matuu & Faganeanea on Sunday.