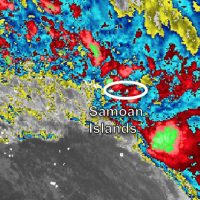 1:00 am…The highest winds recorded so far by the wind gauge at Tafuna is 69 miles per hour around midnight Sunday.
But in the harbor and in valleys the wind speed would be higher.
Wind gusts have been sporadic throughout the night but after midnight Sunday the rain stopped and the winds died down.
Hundreds of families are without power in various parts of the island due to trees or blown roofs akingndown power lines,
The National Weather Service says that damaging winds will remain overnight, Monday daytime and Monday night.
While wind speeds have been at hurricane force levels NWS says it is not a tropical storm as yet. Instead it's an "overly active, over achieving trough."
The following warnings are still in effect.
– Storm Warning
- High Wind Warning
- Flash Flood Warning
- High Surf warning
The following villages are without power:
Onenoa, Aoa, Masefau, Vatia, the a Catholic Church in Pago Pago and intersection at Pago Pago to Fagasa, Petesa/Ottovile/Paogofie area, and Vaitogi/Fogagogo area.
Crews will be out tomorrow morning to work toward restoring power to affected areas. If your power is out at the moment, high chance of it being out until some time tomorrow.
ASPA apologizes for this inconvenience if you are still out of power.
Wind conditions continue to be unsafe due to high winds and heavy rains.
ASPA has one crew on standby for the night to respond to emergencies ONLY.
Water update
– Water pressure is normal for most of Tutuila.
– Low pressure issues in Aoloau and high elevation areas.
– Report in any leaks that may drain water from the ASPA system.
-As a precautionary measure please boil ASPA water before drinking or using for food preparation.
Due to the weather situation, there will be no work on Monday, February 17 for GHC Reid and SLC Manufacturing.
All Department Managers will notify their staff when work will commence. Stay safe and keep your families and homes safe.
GHC Reid and SLC Manufacturing advise customers that they will be closed Monday.